Welcome to Grace's San Francisco Giants Fan Page! Feel free to
look around and please sign my guestbook when you're finished.
And if you have any comments or suggestions, please feel free to
email me at SFGiantsGirl48@aol.com. Thanks for stopping by!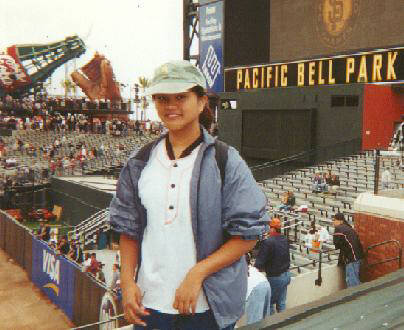 For 6 years, I have been following the
Giants,researching their stats every year and
watching their games on Fox Sports Net. I first
became a Giants' fan as a 9-year-old in 1995 when I
had the good fortune of winning tickets to my first
baseball game through a school raffle.

Ever since I experienced true bliss of attended a
real baseball game, I was looking forward to summer
even more. Through my avid interest in the Giants, I
was able to chat with the male students in 4th and
5th grade about the game last night. Before I knew it,
the girls wanted to know my secret and started to
watch the Giants every night as well.

Besides watching the Giants to feed my
successful male interaction tactics, I watched them
through admiration of their great teamwork and their
real, everlasting love of the game.I am fortunate to be
given a chance to compose this website so that I can
exclaim to the world that the San Francisco Giants
are the best team in Major League Baseball!


TAKE ME OUT TO THE BALL GAME... Enjoying a summer day
with the Giants at the newly built Pac Bell Park.







NL West Standings (as of 7/4/01)

Arizona

Los Angeles

GIANTS

Colorado

San Diego








Graphics and Backgrounds ©GracieLay Productions

If you are interested in using any of the graphics or

backgrounds used in this site, please email
SFGiantsGirl48@aol.com to request.

Congrats to Rich Aurilia, Barry
Bonds and Jeff Kent,

2001 All-Star Game Starters!!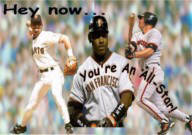 This page last modified on Friday, July 06, 2001